Happy Friday lovelies!! I hope the week was good to you!?! We had all over weather, but it looks brighter now, so long may it continue! Am finishing the week with some favourites...I'll be away next week for a holiday break to spend time with family as my husband is off as well. No doubt I'll come back with plenty to share & some outfits too, also going to take some time to pamper myself and relax. You can keep up with me on Instagram & Twitter as I'm usually on those through my phone. Have a brilliant weekend & week to come!!
Yesterday I won this tshirt dress from Dreamland Clothing, they had a giveaway on Instagram. I enter for fun really, but it's always grand when I do win! Will share it on the blog when it arrives soon! It makes me think of Saved By The Bell, haha!! I love it!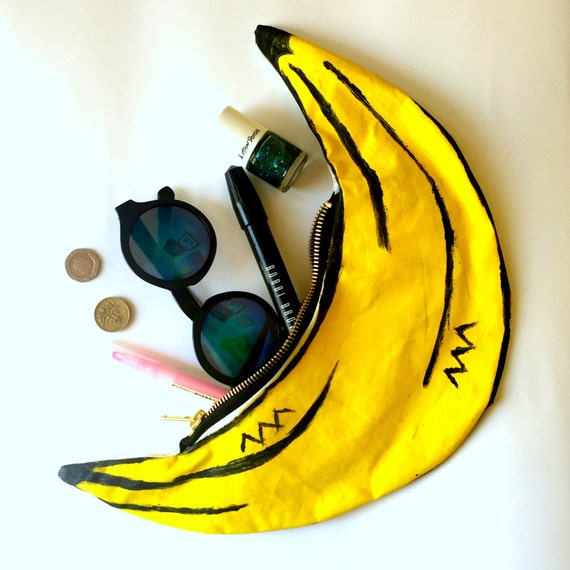 I really love this super cute banana zip clutch bag, quirky is my thing and this is too perfect!! I love that it's hand painted and hand dyed. It comes from Pup TartHandmade and they have a variety of very sweet things, like these clutches (there is also a watermelon one), pillows, accessories and super cute items for cats and dogs too.
As seen on my instagram...this Fred Butler creation is hella cool and I want to wear it every day!! Haha! The head piece alone is superb!! Just so inventive and amazing :)
How awesome are these earrings?? Neon green and they glow in the dark, made by the ever so cool Kanokkorn Lamlert, I really need to save up and get myself something from their creations, because they are just too cool for school kids *wink*
I came upon these some time ago and got reminded of them when a friend asked who they were by! These are called 'Polypodis' by Filipino Artist Kermit Tesoro. I'm completely in awe of them, like real life mermaid shoes, no idea if I could actually walk in them, but I adore them all the same :) Their pure art and spirit!
Last, but by no means least...one of my favourite quotes from Frida Kahlo, who is also such a big inspiration to me!! There is such a connection in her words to me, I feel as though we were friends or could have been friends sharing the same thoughts. It's not so often we find spirits like that! I just love her <3